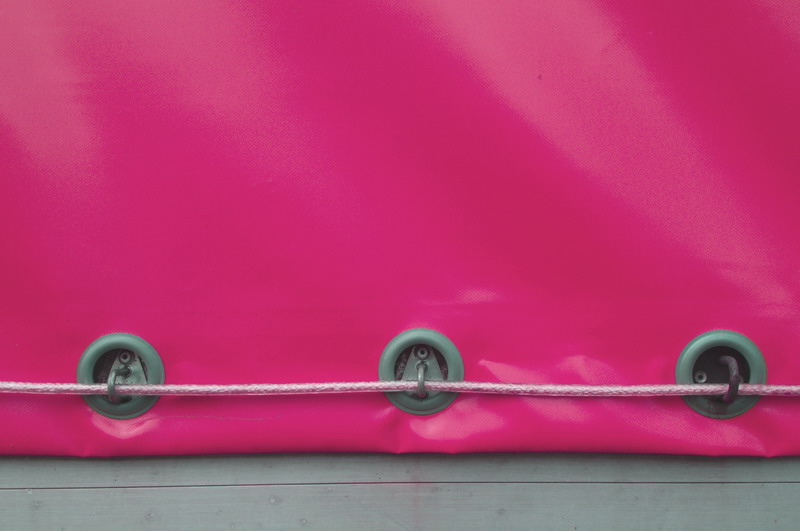 Tarping a flatbed load is one of the toughest jobs in trucking. Every day, truckers spend countless hours putting tarps on and then taking them back off again. So when a trucker has an opportunity to invest in a rolling tarp system, he or she normally jumps at it. Sometimes truckers go one step further by customizing their tarping systems to suit a particular need.
That's just what trucker Greg Tucker did when he purchased a rolling tarp system for his rig. The Ocala, Florida truck driver decided it was time to invest in a new system because he was tired of manually tarping and untarping his loads. He also decided he wanted to use his new tarping system to promote a good cause. So Tucker chose breast cancer awareness.
His flatbed trailer now sports a fully-enclosed rolling tarp system in black and bright pink with messages related to breast cancer. Tucker went one step further by having his cab painted pink and white as well. His truck is now a rolling advertising for breast cancer awareness.
The Difficulties of Tarping
Most of us pay very little attention when we drive down the highway and see a flatbed load. But tarping is a lot of hard work, says trucking supplier Mytee Products. It can take a truck driver anywhere between 20 and 60 minutes to get a load properly secured and covered. If loads are extremely complex, a couple of hours is not out of the question.
On the other end of the journey, the truck driver has to uncover the load, fold up the tarps, and get everything stowed away in anticipation of the next job. The time spent doing so is time not spent earning money.
It is a lot of hard work for which truckers do not get paid. As such, Greg Tucker jumped at the chance to invest in a rolling tarp system that essentially creates a soft cover around his entire trailer. It is the ideal solution for him given that most of the loads he carries are lumber. If he should ever take a load that is too big or unwieldy, the system can always be removed from the trailer and then put back on later.
A Better Job for Truckers
Advocates for breast cancer awareness and cancer victims themselves are thrilled when people like Greg Tucker take up their cause. But when you look at what he has done from the trucker's standpoint, it is equally important to the health and well-being of people who do what Tucker does.
Rolling tarp systems are making a difficult job easier by taking a lot of manual labor out of cargo control and load securement. It is good for both truckers and the industry alike. For truck drivers, a rolling tarp system means a lot less manual labor and a possible extension of one's career. For trucking companies, rolling tarp systems represent a way to keep drivers behind the wheel longer.
If you can take some of the manual labor out of tarping and untarping, drivers face less risk of injury and less wear and tear on their bodies, explains Mytee Products. That's just what rolling tarp systems do. As an added bonus, they also reduce drag and increase fuel efficiency. It is a win-win all the way around.
If you are driving down the interstate and you see a pink and white rig with a trailer reminding you to be aware of breast cancer, know you're probably getting a good look at Greg Tucker's rig. Then remember to do your part to support breast cancer research.