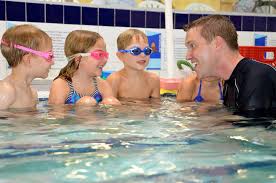 When summer ends, some kids say goodbye to their new friends and swim teachers to begin music lessons, team sports or focus on school work. Parents don't think much at all about taking their child out of swimming lessons to start something else. However, when summer comes around again, those same parents are surprised to find that their daughter or son is in the same class as last year or just isn't improving as quickly as some other kids.
Retention is crucial
When you're learning or fine-tuning any skill, retention of the new knowledge is essential for progression. That's where year-round swimming classes in Chandler AZ come in. Your child will continue to build on his or her swimming skill foundation from the summer and advance. This consistency is important for a child's learning, and it will help your child keep his or her skills on a more permanent basis.
Year-round safety benefits
Many parents turn to swimming lessons as a way to help their child learn water safety and how to behave in emergencies. While these are absolutely critical skills, they also apply to off-summer situations. Children may end up around water even in cold months, such as hot tubs, bathtubs, ponds, lakes and even in a yard with a pool that is not covered.
When your child takes lessons year-round, he or she is more likely to react correctly in an emergency situation. Swimming is one sport that children can learn that can literally save their lives. The Centers for Disease Control and Prevention reports that drowning is the fifth highest cause of unintentional death in the US, and one in five victims is a child aged 14 or younger (http://www.cdc.gov/homeandrecreationalsafety/water-safety/waterinjuries-factsheet.html).
The financial side
Swimming lessons, like other skill instruction, do require an investment on your part. It can be frustrating to find yourself paying just to bring your child up to speed from last year or a previous lesson round. Swimming is like any other new hobby in the sense that practice makes perfect, so a long hiatus means refresher lessons. When you keep up all year long, your child will keep his or her acquired skills and improve overall.
One concern parents may have about swimming in the cooler season is whether the water will make their child more open to colds or viruses, but that's actually just a myth. As long as the indoor pool environment is reasonably warm and your child is bundled up properly before going outside after a lesson, he or she has no extra risk of illness. Swimming is actually a form of exercise that is known to boost the immune system, according to the ASA, making your child more resistant to colds and the flu (http://www.swimming.org/masters/masters-swimmers-avoid-a-cold/).
Swimming lessons throughout the year can benefit you and your child. They offer a greater overall value to your child and your wallet, and they also provide your child with critical skills and a solid and permanent foundation for swimming and water safety.