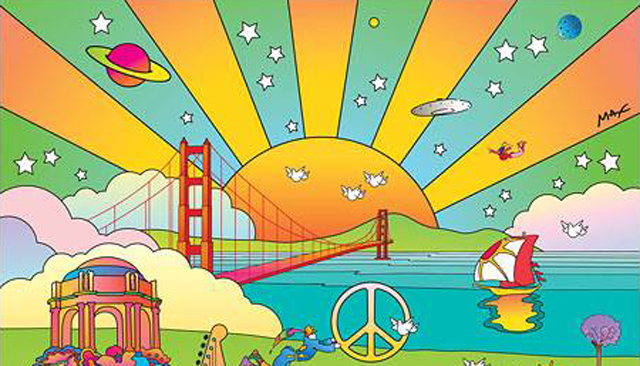 Pop and cosmic art is a magical form of art that delights both the old and young generation. In the world of music, everyone remembers posters of pop stars and musicians. They often hang them up as teenagers in their bedrooms. These posters later become historical pieces to be cherished and remembered for life.
Peter Max- the poster revolution of the 1960's
Peter Max is an iconic name in the field of pop art. He has been a celebrated artist for over 50 years in the USA. Encouraged by his family, he has grown to love art and its forms thanks to his parents. Peter Max studied art with notable masters and went on to create his unique signature style that is world famous today.
He is known for his vibrant colors and signature forms of expression. Way back in 1960's he created some iconic music posters for pop artists when he shows the explosion of the print media. He saw an expansion of four color web presses in this media. A creative idea suddenly dawned on him that he could transform his original art work into posters. His objective was to share them with the young generation of the nation.
A new world of possibilities opened up
Thanks to this unique and creative idea, a new world of possibilities opened up for him. He created stunning combinations of color using a technique known as split fountain. This helped him to combine colors that seemed they were flowing through ink rollers. He described this process as playing the printing press like an electronic piano!
Works of intense creativity and originality
This is where he was able to break conventional ground and emerge as an iconic pop art painter. He created some of the most iconic posters of the nation. His posters were widely sought after by students and they started to adorn college dorms. In just 9 months, millions of his posters were sold across the nation. His posters were radical and they had high elements of revolution in them.
The Cosmic Era
Subsequently, he came out with a new form of art that incorporated elements of the cosmos. The 1960's is often referred to The American Renaissance. There is a popular song by The Beatles. Peter Max banked on this era and ensured that its creative and revolutionary spirit was reflected in his works. He used themes and colors that captured the heart and soul. His posters were magical and they all had a powerful appeal that touched the hearts of both the young and the old.
Peter Max celebrates over 50 years as an iconic artist. His works have appeared in museums and galleries across the world. He has practically painted on all mediums and is known for his soulful expressions. Besides art and painting, Peter Max is an active philanthropist in the world. He has dedicated many of his major works to support the environment and animals. He is passionate in whatever he does and this is why he is an inspiring figure cherished for his talent and charity across the globe today!